Today, trips with a rental of Ibiza boats or boats are no longer reserved for wealthy people like until a few years ago. With the offers that Moana has, you can add emotion to your vacation in a simple and, above all, affordable way.
Can you imagine touring the coast of Ibiza aboard a boat? Now you just have to reserve yours and prepare a suitcase full of enthusiasm and desire to know the island aboard one of these boats. Meet our offer of cheap boats in Ibiza .
These boats are made of inflatable rubber with a rigid keel. Semi-rigid vessels can reach high speeds. In addition, due to their structure, they enjoy greater maneuverability and safety than other vessels. Perfect for a gathering of friends, a family outing or a romantic getaway and like the rest of the boats, you can rent semi-rigid boats in Ibiza with or without skipper, according to your preferences.
Choose the one you like best, the one that goes with you among the variety of semi-rigid Moana offers you, embark on a paradise vacation that will take a long time to forget.
If you are one of those who like to explore and do water activities, you just have to decide between the ones we offer and release all that adrenaline that you have accumulated for a long time. If diving is your thing or you have never tried it, but you would like it, you should know La Reserva Marina des Freus that has more than 13,000 hectares located between the islands of Ibiza and Formentera. In its waters there are many unique spices and many others to discover. Its most precious treasure is an oceanic Posidonia plantabout 100,000 years old with an extension of about 700 km2 starting in Formentera (Es Freus) and ending in Ibiza (Ses Salines) which has been declared a World Heritage Site by UNESCO. Its totally transparent waters make visibility allow us to see the wonders that the depths have in store for us, and the constant temperature of the water invites us to do sports such as snorkeling or paddle surfing.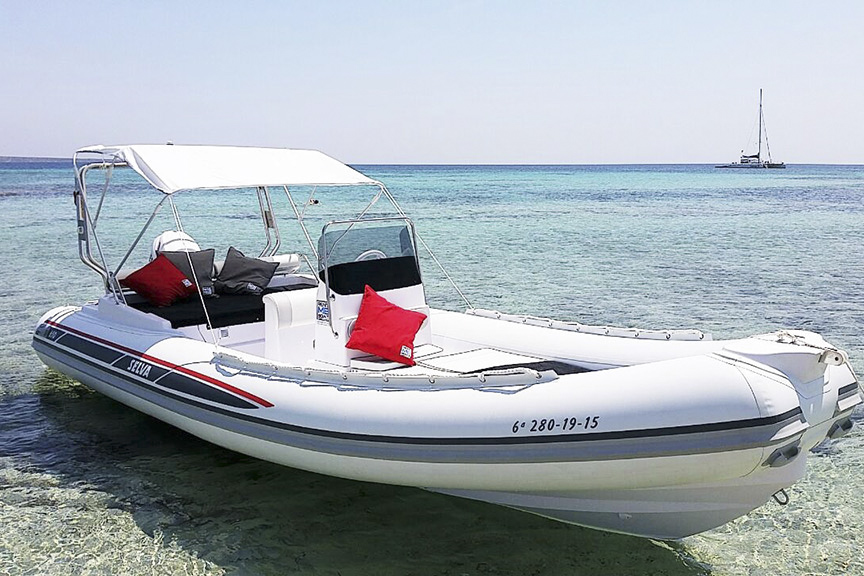 And for all these adventures you can use, for example, the SACS STRIDER 10 , a boat that exceeds all expectations. C onsta of a spectacular sports design that reminds us of the racing cars of the seventies.
It is an elegant and aerodynamic sports boat that has great power due to its two outboard engines. It has a series of features that make it a unique boat with a spectacular design that optimizes the space on board to the fullest, fully equipped to spend unforgettable moments in the company of family, friends or your partner.
The design of the boat is the result of an elegant and light style, but also modern and fast, the perfect balance between aesthetics and technology. It has a length of 10 meters and a beam of 3.35 meters, a capacity for 12 people and a 2 × 250 hp engine and mooring in Marina Botafoch. Includes all risk insurance, mooring at base port and drinks and welcome snacks.
The Sacs Strider 10 in Ibiza is equipped with:
1 cabin
1 bathroom
Iphone, Bluetooth, GPS
Electronic controls
Electric anchor windlass
Stereo system with ipod connection
Stern shower
50l fridge
Bimini awning
Bathing stairs
Snorkeling equipment
Paddle surf (subject to availability)
Services of an employer for only 150
Approximate consumption of 90 liters / hour
Can you ask for more for one for a Ibiza boat rental for days ? All for only 900 euros / day in the month of August and even cheaper during the remaining months.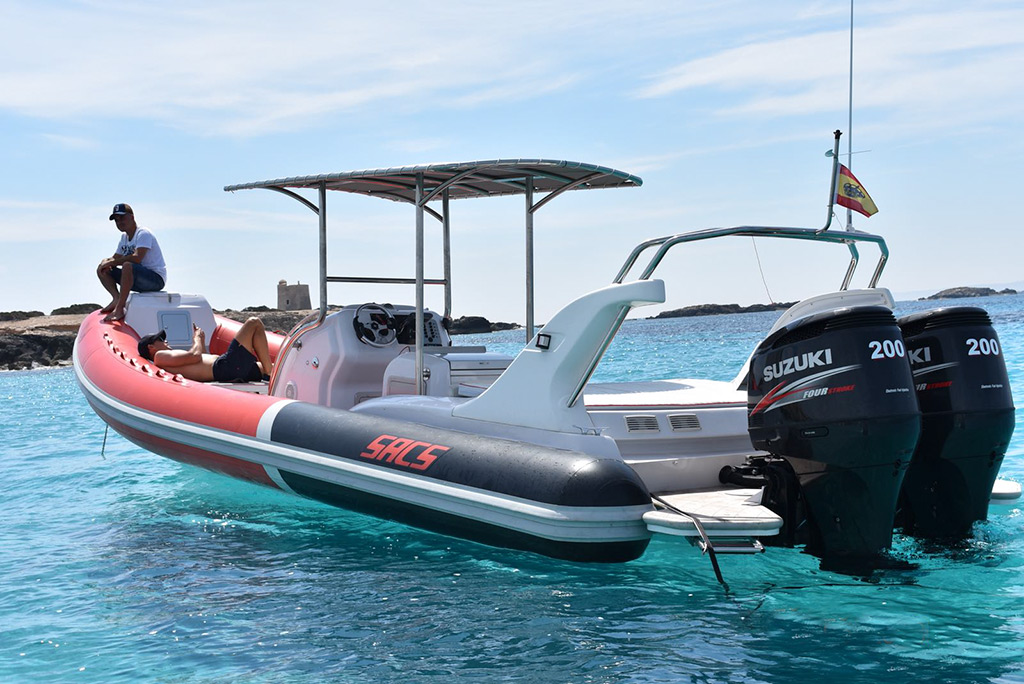 Another option is the SACS SAMURAI 8.5 semi-rigid 8.5m long and 3.35m wide. It has a 2 × 200 hp engine and has a capacity of 11 passengers plus the skipper.
Ibiza boats, renting boats in Ibiza is very simple, includes all-risk insurance, mooring at the base port, welcome, snacks and drinks for passengers. Its price ranges between 700 and 900 euros depending on the time of year.
If you are looking for cheap semi-rigid Ibiza charter , two boats offered by Moana are the VALIANT 750 CRUISERand the JUNGLE 650DS , the most economical, but no less advisable, since they have the best materials to make them safe and the nautical design necessary to make Great getaways around the island.
Make a rental of inflatable boats in Ibiza, do not delay your desire for freedom and desire for adventure, become a real islander for a few days or weeks. In the sea life is lived differently, there are no clocks, it is not made of hours … but of moments!