We could say that life is a way of learning and that, therefore, the only way to reach the goal, if there was or was, is living, how easy does it seem true? That would be the greatest trophy, knowing that we have taken advantage of it so much that maybe we have the right to something more. We will never learn through the eyes and experiences of others despite their advice, their insistence and impetus to show us their achievements. In Moana we know it and we offer you the opportunity to make a small parenthesis with an impressive boat rental in Ibiza , so you can enjoy what others have told you and be the protagonists.
Stop to think for a few moments how many times you have thought: I need a vacation, disconnect, do different things, live unique experiences and recharge batteries. At Moana Smart Charter Ibiza we have a wide range of boats that can achieve that turning point between the "before" and the "after" of your trip. A very complete range of boats that will delight the most curious and take you to paradisiacal and little-traveled places, places where getting lost and finding each other go from being two concepts totally opposed to being brother concepts.
With its yachts, sailboats, boats and even jet skis, you can navigate the seas of the White Island without worrying about anything more than finding a landscape that exceeds what you have in front of your eyes. Well, there is, well, there is!
We show you some of the experiences you can do during your trip, but there are many more and the best thing is that you are the one who decides which one you want to enjoy:
Enjoy a beautiful walled city like Dalt Vila.
Knowing the magical aura that emerges from the islet of Es Vedrà and that gives the island that special and unique something, there are even legends about it.
Take a short break to see the small island of Formentera.
Enjoy the unbeatable sunsets of Ibiza.
Take a bath in practically lost coves like: Es Caló de s'Illa, Cala Blanca, Racó de ses Dones beach, Caló Gros (Punta Grossa) or Sa Figuera Borda among many others.
In a paradisiacal environment surrounded by water with a spectacular color, the boat rental and excursions in Ibiza is the most appropriate choice to live all the experiences that the island offers you.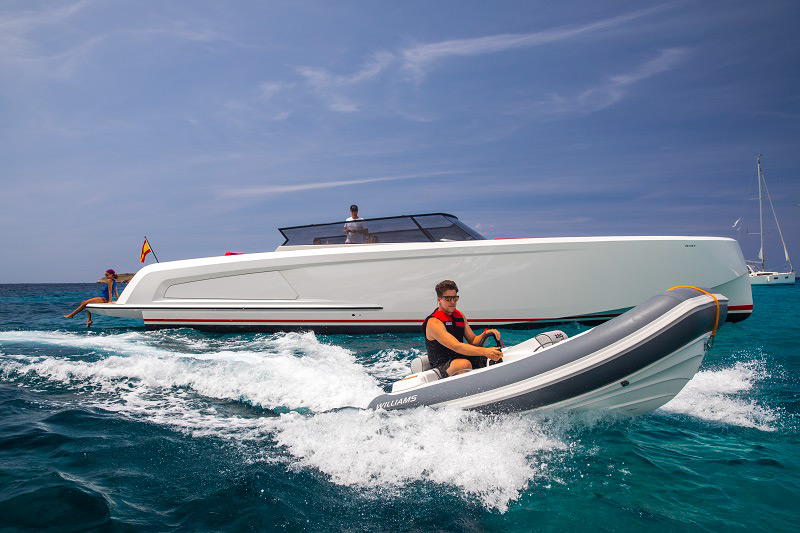 We want to be different, not be the typical charter company in Ibiza , we offer authenticity, naturalness and commitment. A company with values ​​that believes in alternative tourism and escapes the typical mass tourism. We do not sell boat trips, we sell unique and unforgettable experiences.
With our Ibiza boat offers you can see why it is said to be one of the best islands in the Mediterranean, with spectacular turquoise waters, natural parks and wonderful cliffs that will accompany you throughout your journey; Of course, always respecting the environment. For this, we try to minimize waste and the use of products that contain plastic, promoting the use of biodegradable or reusable materials.
The boat rental in Ibiza for days is possible with Moana, create personalized experiences, adapting them to your needs and preferences because it's your trip and therefore up to you the type of C harter in Ibiza you need, you will experience a unique and unrivaled experience , Ibiza will be waiting for you, with Moana you will make those vacations with which you have dreamed something real and you will wish that they never end.
As Fernando Savater said " Orders and customs have one thing in common: they seem to come from outside that are imposed on you without asking permission. On the other hand, the whims come from within you " ; so, if you decide to hire a luxury boat in Ibiza , without a doubt you can give yourself that whim you've deserved all year without feeling bad, they say that once a year does not hurt!
Make the reservation of your trip to Ibiza right now including a boat trip and take advantage of the boat offers that we have at this moment because we put our prices at your fingertips so that the economic issue is not the excuse for which you Stay at home without enjoying our magical Ibiza.