In Moana Smart Charter we have the last days of promotion with up to 35% discount on boat rental in Ibiza with offers and have a different experience in Ibiza. With our wide range of boats and charter boats in Ibiza, Moana offers a truly unique experience based on sustainable tourism that takes care of the environment and seeks to reduce our ecological footprint to a minimum. Join the adventure and meet Ibiza now!
For example, our Sac Strider 10 boat will allow you to escape and get lost in the waters of Ibiza and discover places you have always dreamed of and that you can now see. With its 10 meters in length you can sail the seas like a real pirate in search of lost treasure, both in the company of your partner and your friends, since its capacity is for up to 11 people.
If you prefer something more exclusive and treat yourself, the boat rental in Ibiza in promotion you need is our yacht Astonda 66, with a length of 20 meters and a capacity of up to 10 people. Includes skipper, all risk insurance, mooring at home port, snacks and welcome drink. In addition, it has 2 cabins with double beds and two with single beds, cleaning service so you do not worry about anything and just enjoy yourself; a more than useful bar on deck and music equipment so your trip has its own soundtrack. You can spend it like never before!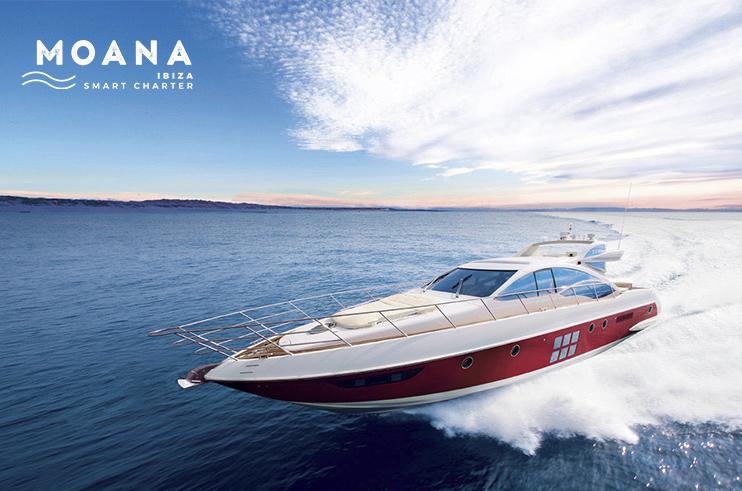 Whether it is in our boats, yachts, boats or even jet skis there is a hidden Ibiza that is worth discovering, that's why we propose the boat charter Ibiza 2019 in Santa Eulalia, this part of Ibiza is far from the bustle of tourism at use because it has amazing beaches and coves that can only be accessed by renting and chartering boats in Ibiza. These beautiful coves are only accessible for a few, a haven of peace and tranquility in which you can perform your favorite water sports, if you wish or explore the corners that make the White Island special.
They say that under the island there are treasures forgotten by elusive pirates, but the truth is that you do not have to go alone into the sea to meet one. The Pirate Tower is a spectacular monument of yesteryear that beyond its undeniable attraction, allows us to contemplate one of the greatest spectacles that the nature of the island gives us, the sunset that you can contemplate from there will be an unforgettable experience to put the final touch to a dream vacation.
At Moana Smart Charter we do not only worry that you live your adventure as safely as possible, but that you do it in the most comfortable and accessible way possible, for this reason we also have the service of Transfer and Concierge service, this is a service of driver and cars private during your stay in Ibiza. If your trip is for business or pleasure, alone or with family or even with friends and whatever the duration of your stay, Moana will satisfy your transportation needs. The Concierge service is a person of the maximum confidence of Moana that will help you in everything you need during your stay. This person will attend your requests and requests and will do them without you having to worry about anything. You can request the services in advance of your trip to have everything ready when you arrive.
Make your vacations more, make them memorable, special and unforgettable, so take advantage of the offers on Moana Smart charter boats Ibiza and enjoy it big and save money. You put the desire and the company and we do the rest. Really, are you going to miss the opportunity to make the trip of your life? Reserve your boat already because a dream place is waiting for you. No schedules, no established routes, just you and yours in a boat Moana in a magical place in Ibiza.