It all started one spring afternoon, four friends having a few beers at a beach bar. For more than 10 years, every Friday we met, but this time it was going to be special, there was a specific topic to discuss, our August holidays were just around the corner. It did not take long to decide, by popular vote won the idea of ​​going on vacation to the white island. Our trip would be unusual, we did not want the typical trip to Ibiza, we wanted to be explorers, we wanted a different trip, to know little traveled beaches and not a monotonous conventional tourism.
That's when we started our search for different experiences on the Internet: sailing boat rentals, Ibiza charter hire, Ibiza charter… it did not take us long to find a company called Moana, Ibiza boat rental, which offered everything we had in mind: adventure based on tourism sustainable that takes care of the environment and seeks to reduce the ecological footprint to a minimum. I have to say that in our group we are quite aware of this issue, so maybe this was the icing on the cake when deciding.
One of the offers that best suited our idea was the rental of a fantastic SACS SAMURAI 8.5, which also included the rental of two jet skis with a full fuel tank and a great snack with drinks and snacks.
We could do all kinds of water activities: blade fish, snorkel and paddle surf in crystal clear waters of Atlantis.
Thus began the adventure, the great day arrived.
We got up in one of the best hotels, Ibiza Gran Hotel. A paradise of luxury that makes you feel that the island revolves around you just by setting foot in it. It has a special magic, it envelops you and makes everything flow naturally and peacefully, we receive a spectacular treatment.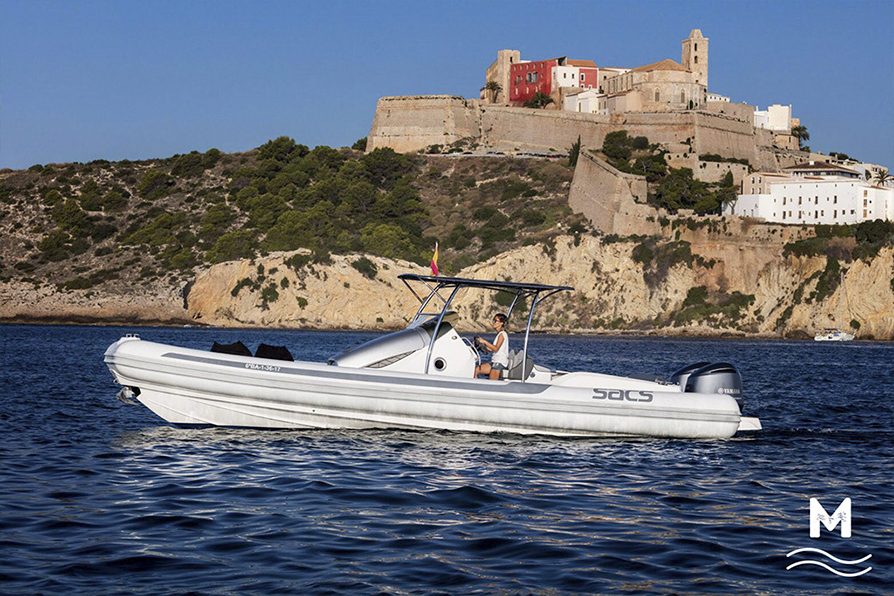 From there to our appointment with Moana. They received us with exquisite kindness. We started our route, what landscapes, how much peace, this was what we had all dreamed about and it was coming true. An injection of adrenaline that made us be in that place at that time. Our mind did not have time to be distracted by anything other than living in that present moment and enjoying it as real children.
The boss at one time asked us if any of us was willing to know a little more from within the boat, if he was willing to put himself in front, always clear, under his supervision.
I did not take long to offer myself, it was one of the most wonderful experiences of my life. For a moment I felt I was alone, I could only feel the extraordinary peace that the sea was providing me, it was a luxury to see that landscape from that privileged place, in the foreground, as if there was only horizon and nothing else.
The crystal clear water almost looked like a mirror in which my happiness was reflected in detail, the blue sky that combined with the color of the water in a border that did not seem to end.
The employee of Moana, in charge of renting boats Ibiza or boat charter Ibiza, advised me and explained that I would have to get a card called PER (Skipper of Pleasure Boats), if I wanted to enjoy that all my life. Also convinced me more if possible, because this would also enable me to the government of nautical motorcycles, within the specific limits of navigation applicable to these, according to their technical characteristics.
A trip difficult to explain, both of treatment and of lived experiences; The human quality that they transmitted to me far exceeds everything else.
But I must be honest, the feeling of seeing you only in the middle of the ocean when you are surrounded by people, that does not exceed anything.
That was the turning point in my life and I promised myself that I would get the way to be me, the next time, the boss of my own boat.