We feel obliged to announce that we have already started the 2019 season of boat rentals in Ibiza and our boats are on the water every day for the use and enjoyment of our customers. In our reservation center you will find all our boat offers so you do not miss your Moana experience for your next vacation.
Moana Smart Charter Ibiza has an exclusive fleet of boats for Ibiza and Formentera, among which are the sea-bikes of the Sea-Doo brand, one of the most reputable in the sector in the field of motorboats. The Bombardier RXT 300 Ibiza rental is your best option for this holiday if you are looking for fun and adrenaline in its purest state.
The Balearic Islands are one of the favorite destinations for lovers of water sports, particularly Ibiza. A perfect plan for a summer afternoon in solitude, with your partner or with friends. Not only is it wise to practice sports, but as a quick way to get to your favorite beach or cove. The advantage of jet skis is individual control and that, depending on their power, you do not need a license to drive them.
On our website you will find the wide variety of options for renting water scooters in Ibiza available for those who want to spend an unforgettable day of sailing. Sailing on the back of one of the powerful boats: Bombardier RXT water motorcycle, then plunge into the crystal clear waters of the Mediterranean or discover some of the most spectacular coves and areas of the islands.
The advantage of being able to rent jet skis is that you can try the different models that we offer, such as the Bombardier RXT 300 rental in Ibiza for days. You can always repeat with a bike that you liked or try a new, more powerful or simply different.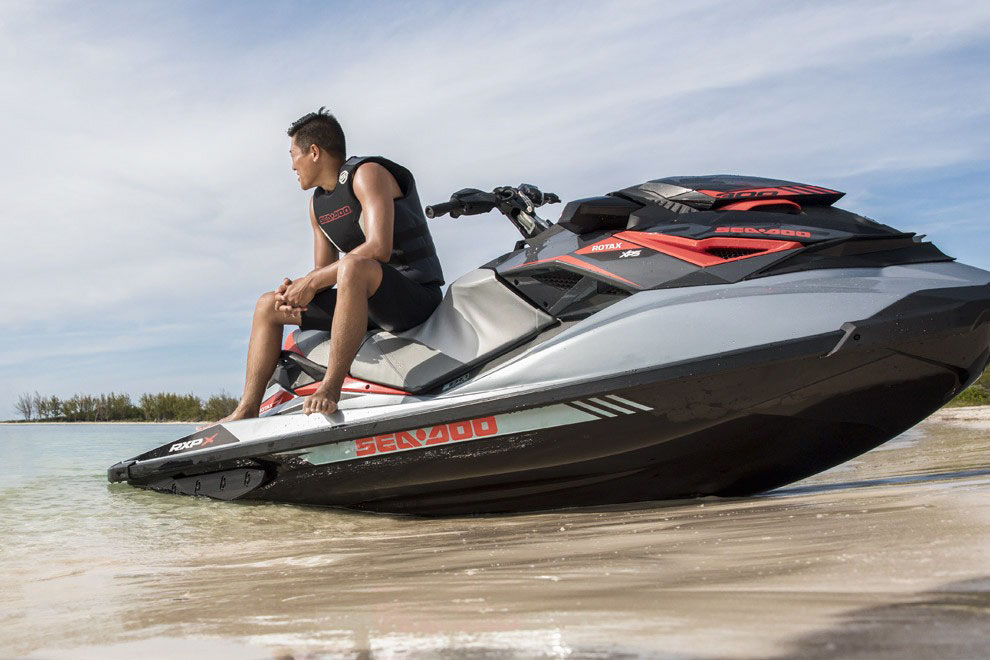 The charter Ibiza watercraft without a license for this model is not possible. This service can be accessed by people who have the appropriate qualification to operate jet skis. So you will need a special permit for your rental and free driving. If you do not have a nautical motorcycle license, contact us so we can help you.
The Bombardier RXT 300 Santa Eulalia watercraft charter also includes knowing where you can drive and where it is prohibited. Tenants can navigate wherever they want, within the limits established by the rules for this type of vessel. In Ibiza there are several areas enabled to handle jet skis. You can ask us about it at the time of rent Bombardier RXT 300 jet ski. But here we will mention some of the places where you can enjoy without problems:
– Cala Jondal. This is one of the coves preferred by lovers of water sports.
– The Margarita Islands also frequent those who decide to ride on jet skis.
– It's Vedrá. Here you can navigate around the islet, but it is not allowed to disembark since it is a protected area.
Go to the sea and ride a motorbike around Ibiza, reaching its best coves and hidden corners. Take on the waves at full speed in this exciting experience! Find out more about all the Charter Ibiza options, including catamaran rentals, yacht rentals, lachas rentals, sailboat rentals or watercraft rentals in Ibiza. The most spectacular island of the Balearic archipelago is waiting for you with open arms and eager to surprise you. Discover all the corners of Ibiza at the hands of Moana Smart Charter Ibiza!