Summer is just around the corner and, in case you have not heard about us yet, we will explain why we are the ideal choice for your holidays this year. Moana Smart Charter Ibiza is not a typical charter company since we do not go to mass tourism but we have personalized services and we want to differentiate ourselves as an alternative to the usual Ibiza. Authenticity, naturalness and commitment are the three values ​​that define us the most. We are a smart charter from Ibiza that is committed to an alternative tourism offering the client a different and unknown perspective. We do not sell boat trips, but we offer authentic experiences.
And so that you can enjoy the island, we have created experiences that suit you. We have a lot of extra services in a long list of boats to adapt to your needs and that will allow you to enjoy Ibiza in a different and personalized way. Live the Moana Smart Charter Experience in Ibiza !
In addition, as we have mentioned on numerous occasions, we are concerned about the environmental footprint that we cause in all trips, that is why in our services we minimize waste and the use of products that contain plastic, favoring biodegradable or reusable materials.
The smart charter Ibiza with Moana allow you to experience a different side of Ibiza, which does not appear in the guides. You can access alternative places to lose yourself and live unique moments of our hand. There is much more than partying on our island: little corners and uncrowded beaches that will make you fall in love.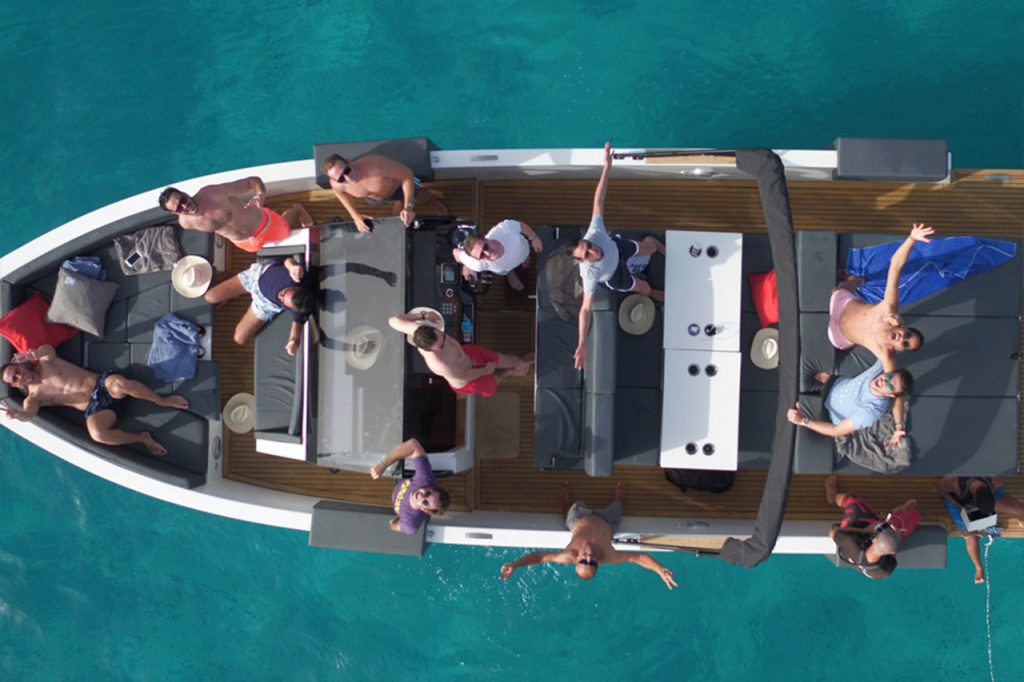 Being one of the best options to discover the charms of the island, smart charter Ibiza in Santa Eulalia is a luxury that not everyone knows. We have a large fleet of boats so you can choose the one that best suits you or the one you like the most. From sailboats, catamarans, boats, semi-rigid or yachts, to jet skis. You can take the boat yourself or if you prefer, you can rent a boat with skipper in Ibiza. In a paradisiacal environment surrounded by spectacular crystalline waters, the smart yacht charter ibizaIt is the most appropriate choice to live all the experiences that the island offers you. In addition, right now Moana Smart Charter Ibiza has discounts on booking your boat for the summer holidays 2019. Enjoy the -35% discount on the reserve of the SACS SAMURAI 8.5 and the SACS STRIDER 10, a -15% on boats such as the RINKER CAPTIVA and the ASTONDOA 66, and -10% on the reservation of the favorite boat of tourists, the BENETEAU GT 40. If you are interested in the charter Ibiza sailboator any other boat, do not hesitate to contact us.
As if all this were not enough, Moana offers the services of transfer and concierge. If you need a private driver and car service during your stay in Ibiza, whether for business or pleasure, alone or with family or friends, whatever the duration of your stay, Moana will satisfy your transportation needs.
And now you'll wonder what the concierge service is. Well it is a person who will help you in everything you need. It will attend your requests and requirements and will perform them without you having to worry about anything. You can request the services in advance to have everything ready when you arrive.
If you are considering a Moana experience or are thinking about renting one of our boats, do not hesitate to contact us and we will gladly answer any questions. You can send us an email through the form in the Contact section or call us by phone at the numbers indicated on our website.