Today we are full of news, and that is before the end of the year we had to talk about our discount on boat rentals. Some probably already have seen it on our website, but for those who have just arrived, know that you are lucky because we have the cheap boat rental promotion.
What are the discounts on boat rentals? We currently have two great boats on offer, the SACS SAMURAI 8.5 of which we have already spoken in a past post and SACS STRIDER 10, which we will talk about below.
As some of you already know and for those who do not tell you, to rent a boat for a day, the semi-rigid boats enjoy great maneuverability compared to other boats. Its lightness makes it possible to reach any corner in a short period of time and that is something that is highly valued when one is on holidays. They are great means for a meeting of friends in the middle of the ocean or to escape to one of the dozens of coves that the island gives us.
At Moana we like our clients, more than boats, to hire experiences and emotions. We bet on a different concept from the one you have about Ibiza holidays. We bet for the tourism of friends, the familiar tourism or the cultural tourism instead of the classic one and already hackneyed "tourism of celebration". We know that escaping from the party people is not easy, especially in summer, so we give you the opportunity to rent your own boat and enjoy your holidays in the places you want and at the time you want. Without schedules, nor established routes only you and yours in front of a magical place that keeps a lot inside of you and that you can now discover.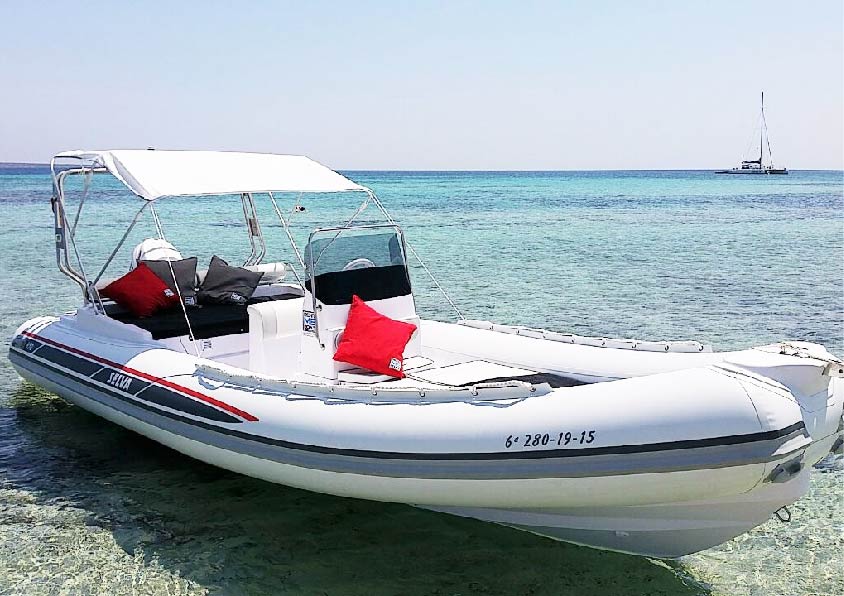 The SACS STRIDER 10 is a boat that you can rent either to enjoy with your family or to enjoy with your friends, as it has a capacity of 11 people. Its structure is ideal to navigate the crystalline waters of the coast and reach its secret corners. Start with the Botafoch Marina, where is the mooring of this boat. It is the most active Marina of Ibiza, where you can perform different nautical activities, enjoy the local cuisine, catch up on fashion issues and trends among other things.
Enjoy the boat rental with a discount until January 7 or if you prefer you can rent a yacht for a day or for as long as you need. Yacht rental is increasingly demanded as the summer dates approach, so we recommend reserving yacht rentals well in advance to avoid risks.
Currently, the semi-rigid boats are the ones we have on offer, but we have a large fleet of boats for rent with or without skipper. From boats, yachts, catamarans or sailboats, we also have extra services to entertain your boat trips and fill them with adventure and excitement. You can choose to rent Seadoo or jet skis to get lost with whoever you want along the coast or you can rent a Seabob and live a more complete and close experience, recommended for those who like adventure water sports.
Anticipate the 2019 holidays in Ibiza and book your boat at the best price. Do it now and do not worry until the summer if your holidays are going to be good or bad, because making the reservation with Moana, the success of your vacation will be assured and also you will save 35%!