Organizing a vacation in a big way is not easy, so many people decide to organize them in advance so they don't run out of what they want. On the island of Ibiza one of the most popular tourist attractions are boat trips, a different way of touring the island and its paradisiacal beaches.
Boat trips in Ibiza are activities that must be booked well in advance, as the search for "Formentera Ibiza Excursions" in the search engines is getting higher. For this reason, boat rental companies for excursions (like ours) are already focused on the Ibiza 2019 charter reserve.
Who should rent a boat for excursions in Ibiza?
If you are looking for a holiday with friends or family but without having to go through all the tourist overwhelm that is a summer in Ibiza you are in the right place. The excursions in Santa Eulalia Ibiza are something extraordinary for all that a piece of land like that can offer you.
What does the area offer?
The reputation of the zone doesn't stop increasing exponentially every summer, far from the mundane holiday tourism, it is an area that enjoys great interest in gastronomic and cultural terms. In addition, to reinforce this escape from the "Ibicencan party", it has one of the most important marinas, as it hosts the largest and most luxurious boats that arrive on the island, which makes the whole area of ​​Santa Eulalia a place elegant and distinguished. In contrast to the elegance that emanates from its streets, harbor and crowds, the hippie market is an iconic place that many people come to for its history. Born in the 70s by the hand of a few hippies who started selling handicrafts to tourists, now it has become a tourist attraction of reference with more than 500 positions.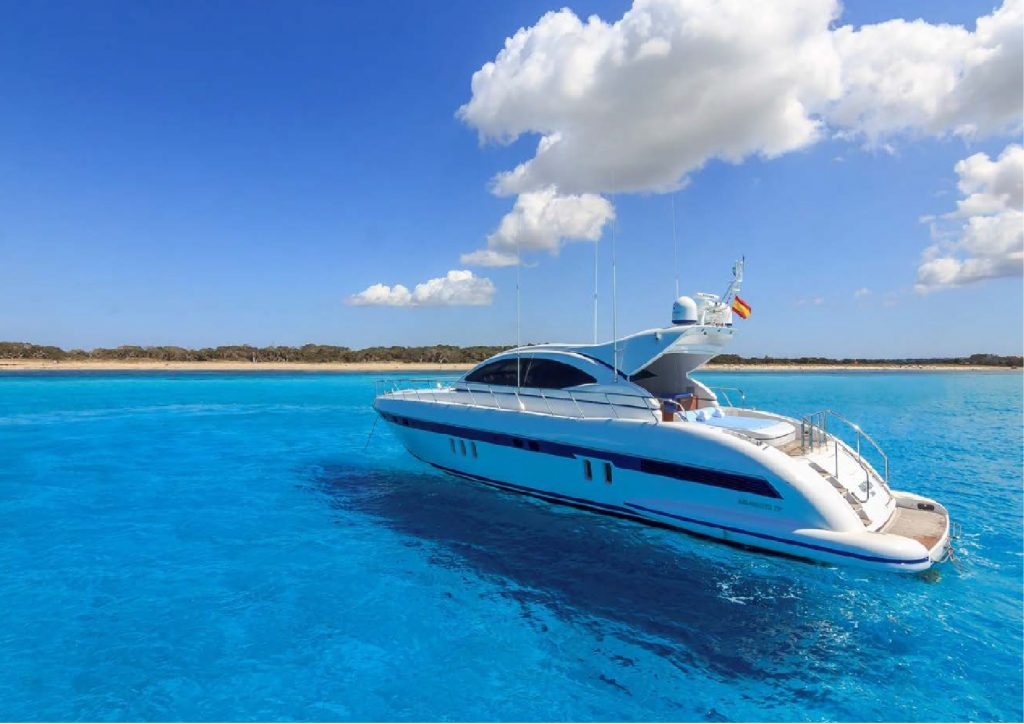 Maritime tourism is another attraction of the island in general. Throughout its 45 kilometers of coastline we can find spectacular cliffs, paradisiacal fairy tale beaches and magical corners that are impossible to describe. You should know that when you navigate the coasts of Ibiza you face a journey of emotions and spirituality; the air that breathes in its waters, the nature that surrounds its coasts and the beauty that emanates from its landscapes will transport you to a world of emotions that you can only live here, on the Island of Ibiza.
You can also complement your trip to Ibiza with different activities such as kayak rentals, jet skis, surfboards … activities you can do from your own rented boat so you do not have to depend on anyone.
How can you make the pre-booking of boat trips 2019 Ibiza?
During the winter we provide shuttle service and maintenance of boats, since with the arrival of November we have removed our boats from the water, but you can already make the pre-booking excursions to Ibiza 2019 and worry about one less thing.
From our website you can choose from a wide and complete range of boats of different styles. You just have to select the date you want to travel and you will have your pre-confirmed reservation. If you have any questions about the reservation please contact us through the form available on our site.
Do not wait until it's too late, get ahead of the 2019 season and do your pre-booking of boat trips around Ibiza.