At the moment when it is decided to look for a storage solution for a boat, there are two possible options. The first, which is usually the most common for those who have space in their house or garage, is to take the boat out of the water and store it at home. Another option is to keep it in the water, either in a mooring bought or rented, where it will have to do the maintenance of rigor. The first option is for those who only enjoy their boat in the summer, but if you are a lover of boats and you like to travel at all times of the year, we have the perfect service for you. A service that makes both the transfer of boats back to your port of mooring, and to the destination ports of destination.
Is summer over and now what?
Pleasure boats no longer have to be contingent on summer and holidays. From now on, thanks to our boat transport service you can enjoy your boat at any time of the year and anywhere, and thus, not have to worry about anything. Finishing the summer you do not have to say goodbye to your ship, there are many destinations that you can visit and whose ports are a real wonder. Do not give up the beauty of the sea because the season changes or because you have to move to another city. Our captains are experts in the management of pleasure boats and in the transfer of boats from Ibiza. They will take the boats where the customers need them. That way you will not have to navigate to your destination and you can enjoy your hobby wherever you want.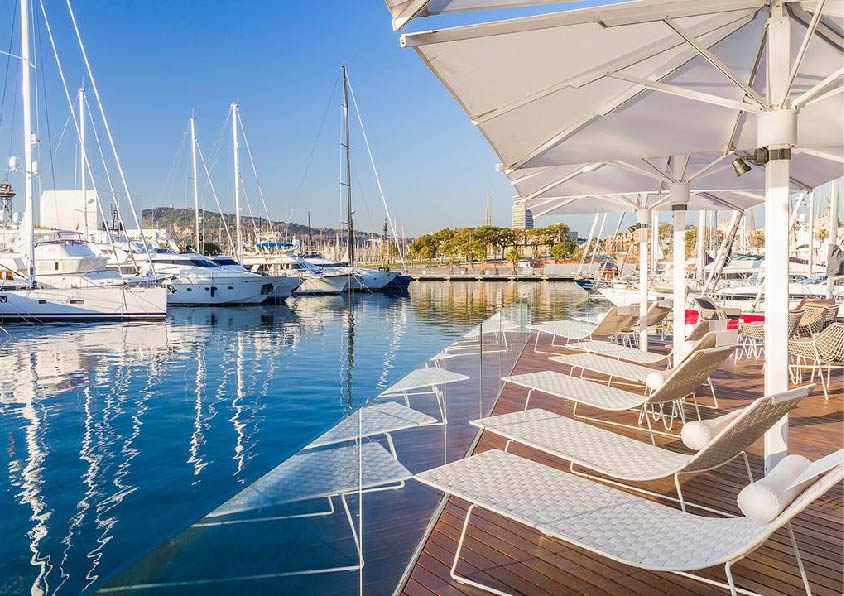 In which marinas with moorings can I leave my boat?
The mooring of boats in Spain is an easy task, since there are hundreds of ports and thousands of moorings. In this case, we are interested in those ports that allow the mooring of bystander recreational boats (almost all of them allow a transient mooring, but some large harbors do not allow recreational boats). The main ports for mooring yachts and boats in Spain are the Port of Bilbao, the Port of Valencia, the Port of Motril and that of Barcelona. Specifically, the Port of Barcelona includes specific facilities dedicated to recreational boating, such as the Marina Port Vell or the Royal Maritime Club of Barcelona. A little further down, we find the Alicante Yacht Club.
These are some of the options where we can tie your boat during the winter so you do not have to take it out of the water, but if you want to use it actively until the summer, we take care of the transport of boats and take it to the destination want so you can go sightseeing and have your own boat without worrying about how to take it there. We leave you a list of boat moorings in the Mediterranean and in the Canary Islands whose ports have a beauty that is worth seeing and where we can take your boat so that you only have to enjoy your getaway:
– Puerto de Mahón: Located in Menorca, the port of Mahón is pure spectacle for the sight. It is a port of 6 km and of natural formation, which leaves a panoramic of very calm waters. From the port itself you can enjoy some of the architectural remains of Mallorca, such as the ruins of a military hospital of the eighteenth century or see the King's Island.
– Puerto Marina de Benalmádema: This position in Málaga has been chosen twice as the best marina in the world. With a very eclectic style, it mixes the Indian, Arab and Andalusian influences, leaving a stamp rich in architecture and history. It is a port with more than a thousand berths, making it an active port and full of life.
– Puerto de Mogán: for the romantics, in Gran Canaria you can enjoy an authentic Venice in the purest Iberian style. It is a charming port that fortunately has managed to dodge the hotel invasion, which adds privacy and charm.
There is no excuse for not traveling in winter and leave your boat at home, leave it in the hands of professionals and do not worry, just dedicate yourself to enjoy.