It seems, that with the arrival of September, the summer is not over yet. There is still time to enjoy some long sunny days, with pleasant temperatures that allow us to having very exciting experiences. At Moana Smart Charter we are in love with summer and since we want to extend it, we still have the Ibiza boat rental service available. For all those looking for Ibiza boat rentals or Ibiza launch-boat rentals, Moana Smart Charter offers a wide range of choices in Ibiza.
An optional route to enjoy the white island and its surroundings is to visit Ses Illetes beach. Located on the neighboring island of Ibiza, Formentera, it is considered one of the best 10 beaches in the world. It consists of just 60 meters of land spread over a narrow strip that leaves an idyllic landscape with the sea on both sides.
But if the preference is to stay along the coasts of the island, there is a variety of secret coves that can be accessed thanks to the boat rental in Ibiza. The only inconvenience that these coves have is that in many of them they do not take more than 10 people so it is very important to be among the first to arrive, an inconvenient you will not have to worry about thanks to the Ibiza launch-boat rental with or without skipper.
These beaches have little signposting, they do not appear in most of the travel maps, and as we said before, their access is not easy, which makes these coves authentic paradises.
Atlantis is one of the most famous and unknown beaches of Ibiza, famous for its rock formations dating from the fifteenth century. It is also worth mentioning the Buda cave, a cave temporarily inhabited by hippies with a pronounced slope for access by land. Its rocks are decorated by artists who have been inspired by the very magic of the islet giving rise to original figures.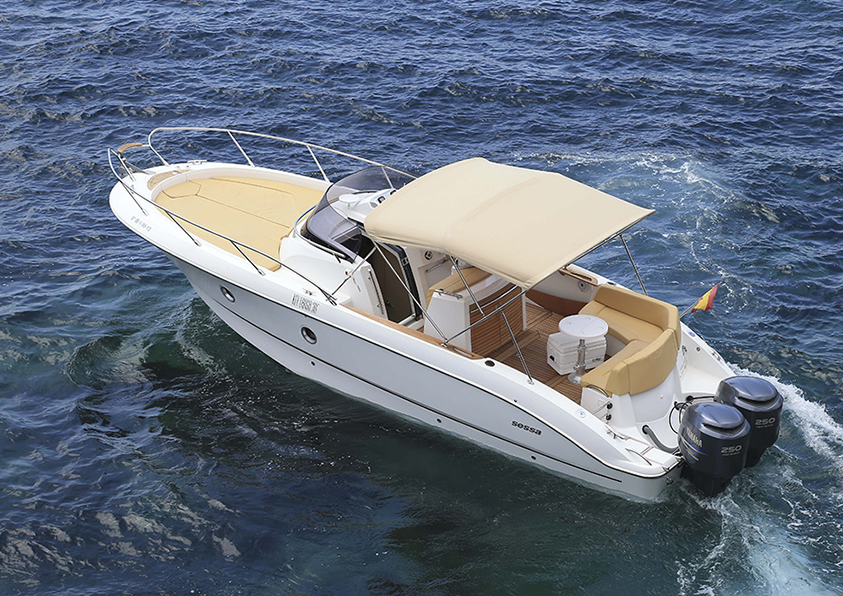 Near Atlantis, we find Es Canaret, another of the most unknown beaches of Ibiza and that you can discover thanks to the boat rental in Ibiza. It is a beach with something more than sand that has a curious history behind it. A high class german family decided to build a house on the beach thinking they would have a secret beach, but since the Coastal Law prohibits it outright, the owners of the house have had no choice but to make a path that passes through their property so that the rest of the people can access their "particular beach".
Another curious cove to visit easily thanks to the boat rental in Ibiza is Portitxol. Formed by còdols, or what is the same, pebbles, is one of the most emblematic beaches of the island. We are talking about a cove that does not lack anything. Its crystal blue water allows you to observe the seabed with great ease, which makes this cove a great setting for anchoring and snorkeling or diving. The only buildings that can be seen are the houses that are still hunters, so this beach meets all the characteristics of an idyllic setting. It is a very closed cove which gives it a lake aspect.
Visiting these coves and some other unforgettable sites are some of the advantages of charter in Ibiza. Renting a boat will give your vacation an exclusivity component, you can go wherever you want and visit the sites you want without having to adapt to tourist standards. With Moana Smart Charter it is now possible to know the Ibiza that is really worthwhile and many are unaware.