If you are thinking of visiting Ibiza, renting a semi-rigid boat in Ibiza is the best option to get lost in its waters and its beautiful coves.
The rental of a semi-rigid boat in Ibiza is one of the unique opportunities you have to visit what not everyone can. The island is full of secret coves, deserted beaches and crystal clear waters that can only be reached by boat rental.
The boat rental in Ibiza is gaining weight among the tourists who come every day to the island. It is one of the best ways to know all its corners and secrets, also, being a private rental customers can make all the stops they want and enjoy your time at your own pace, without concerns of excursions or group visits.
Ibiza offers several transport options for tourists but if you have decided to rent boats in Ibiza it is because you are looking to improve your experience on our island. The rental of a boat or a semi-rigid boat will offer you the possibility of enjoying the sea in its calmest state, where you can relax with your family or friends.
The freedom offered by boat rentals in Ibiza can not be compared with anything, since once you have the keys to the boat, you are the owner of your own vacation and destination. Take advantage of these walks to enjoy your privacy in an intimate and personal environment. You can rent the boat at the moment you arrive at the island and you will have it at the moment (as long as it is available), or if you prefer (and it is more advisable), it is better to make a previous reservation on the web or by calling by phone to ensure you have the boat that best suits you.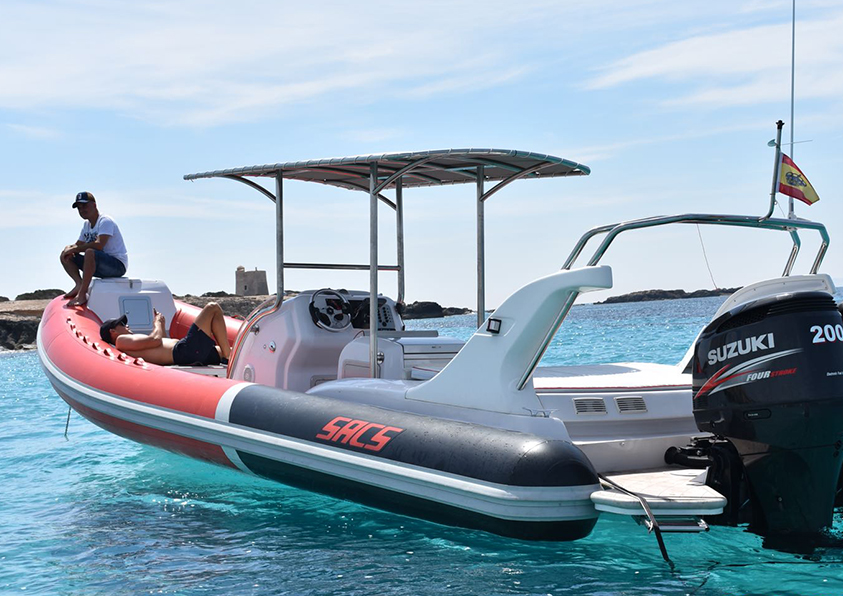 Moana is a company dedicated to the rental of boats, boats and semi-rigid in Ibiza. It has a large fleet of boats among which are from cheap boats, semi-rigid with skipper, or charter in Ibiza. It offers a variety of rental modalities, from renting boats in Ibiza with skipper, to renting boats without a license in Ibiza, passing through a great variety of boats, boats, semi-rigid boats, yachts ….
If you decided to rent a semi-rigid boat in Ibiza, today we present the SACS SAMURAI 8.5, a semirigid of 8.5m of length and 3.35m of beam. It has a 2x200cv engine and has a capacity of 11 passengers plus the skipper. Boat rental in Ibiza includes full insurance, mooring at the base port, welcome, snacks and drinks for passengers. Its price ranges between 700 and 900 euros depending on the time of year.
Besides, not everything is sailing, the activities form an important part of the experiences, that's why the boat has a music system with Ipod connection, with a swim ladder to get into the sea, a snorkeling equipment for you to analyze the depths of our coves and a Paddle Surf team, so you never get bored when you're surfing.
If you want to get to know Portixol Cove, a small cove where big tourist boats do not enter, your best option is to rent a private boat. Another destination that you can visit is Cala Olivera, a quiet cove that flees from the marabunta of tourist places and crowds.
These are just two coves to relax and where to enjoy the tranquility, the sun and the sea in the best company. Two coves to which you can go whenever you want, because in your vacations, you decide.